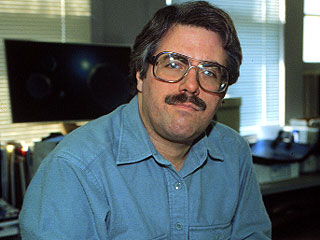 Rick Sternbach (1951) first joined Star Trek in April 1978. As an illustrator, he worked alongside Mike Minor to design control panels and signage for The Motion Picture.
Almost a decade later, he was hired together with Andrew Probert to create the look of Star Trek: The Next Generation. In this capacity, he helped bring the twenty-fourth century to live. When Probert left the show at the end of the first season, Sternbach became solely responsible for designing starships and props.
With Michael Okuda, Sternbach designed the Deep Space Nine space station, and he designed the Starship Voyager on his own.
Sternbach helped rationalize many of Star Trek's technologies. He drew the Star Trek: The Next Generation USS Enterprise 1701-D Blueprints and, with Michael Okuda, wrote the Star Trek: The Next Generation Technical Manual. Many Star Trek fans would consider those reference works as close to canon as possible.
Forgotten Trek interviewed Sternbach in July 2007.