Star Trek may have been progressive for its time, but it was still a product of the 1960s. This was especially obvious in how it treated women, from Orion slave girls to tiny miniskirts to William Ware Theiss' outfits, which left little to the imagination.
Uhura
Putting a woman of color on the command bridge of the Enterprise was a big deal in 1960s America, but Uhura often had little more to do than relay messages. In "The Man Trap", she even complains to Spock that she is bored with her work and asks him, "Why don't you tell me I'm an attractive young lady or ask me if I've ever been in love?"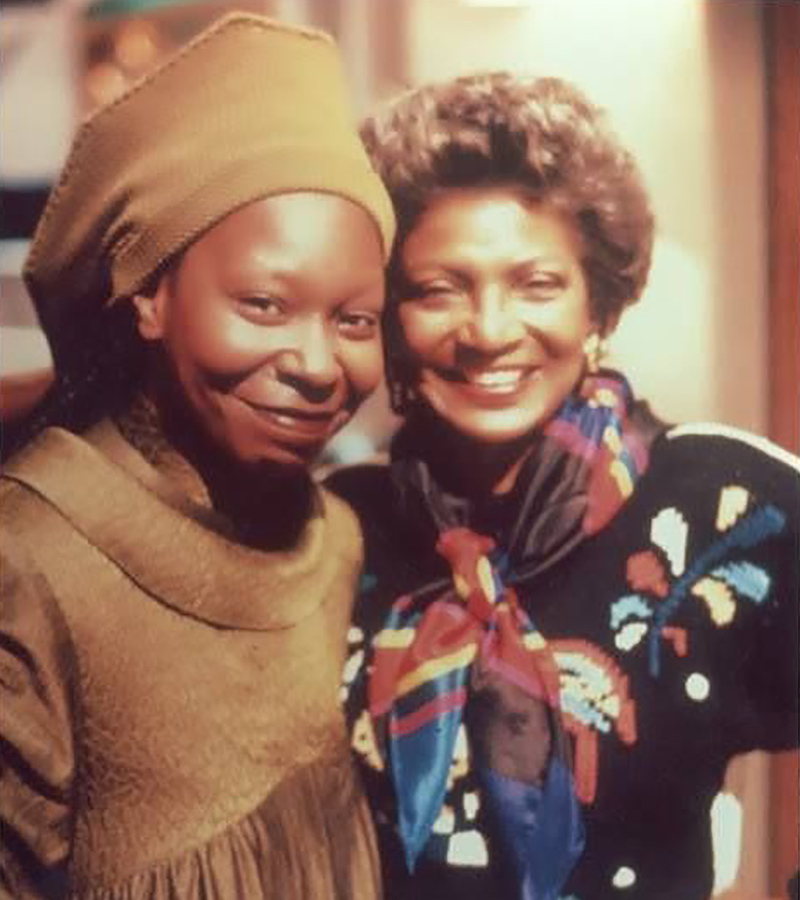 Uhura was seldom involved in decision-making. She would stay behind whenever the other, male officers decanted to the briefing room to discuss the crisis of the week.
Nichelle Nichols felt her character was being underused, telling TV Guide in 1967, "My problem is being a black woman on top of being a woman."
Even when Uhura played a bigger role in the story, she behaved differently from the men. When centuries of human history are wiped out in "The City on the Edge of Forever", Uhura lets Kirk know she is "frightened". Can you imagine Scotty or Sulu making a similar confession?
But, looking back, Nichols also insisted the part mattered. She told Starlog in 1992:
I rather resent it when people say Uhura didn't do anything but say, "Hailing frequencies open." That's not true. It demeans my status. Uhura represented womanhood and the breakthrough of cross-racial representation. She represented dignity and intelligence, and no one can take that away from her, or me.
Her mere presence inspired Mae Jemison to become an astronaut and Whoopi Goldberg to become an actor.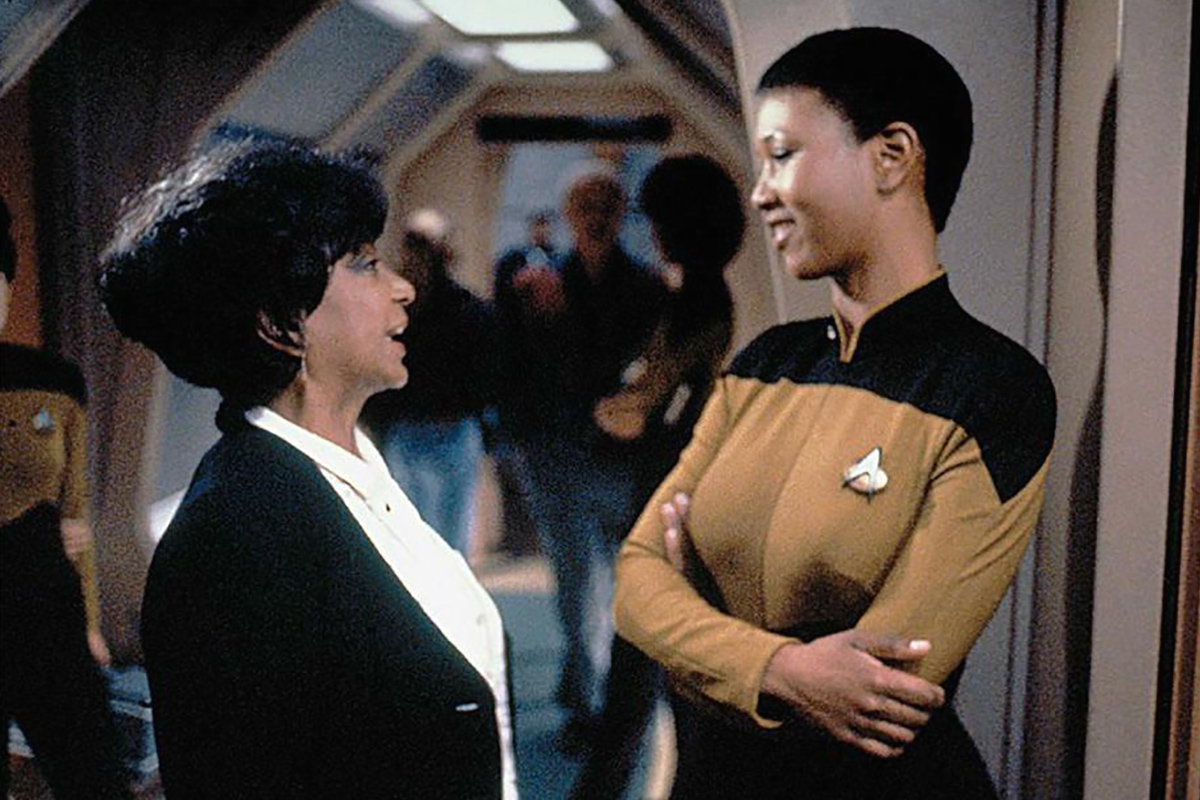 Women second
Uhura's "frightened" moment in "The City on the Edge of Forever" was not the norm. Nichols was more often able to portray Uhura as a professional women. In "The Naked Time", when an intoxicated Sulu declares to Uhura, "I'll protect you, fair maiden," she responds: "Sorry, neither."
Others were not so lucky. Grace Lee Whitney, who played Janice Rand, had to fall in William Shatner's arms whenever there was danger, notably in "Balance of Terror". Emily Banks, playing Yeoman Barrows, dons a medieval dress in "Shore Leave" in an attempt to woo Dr McCoy and sobs uncontrollably when he apparently dies until the captain calls her to order. Madlyn Rhue, as Marla McGivers, only has to lay eyes on the superman Khan in "Space Seed" to betray her crew for him. The only thing saving the women of the Enterprise from emotional breakdown are the men, usually Kirk.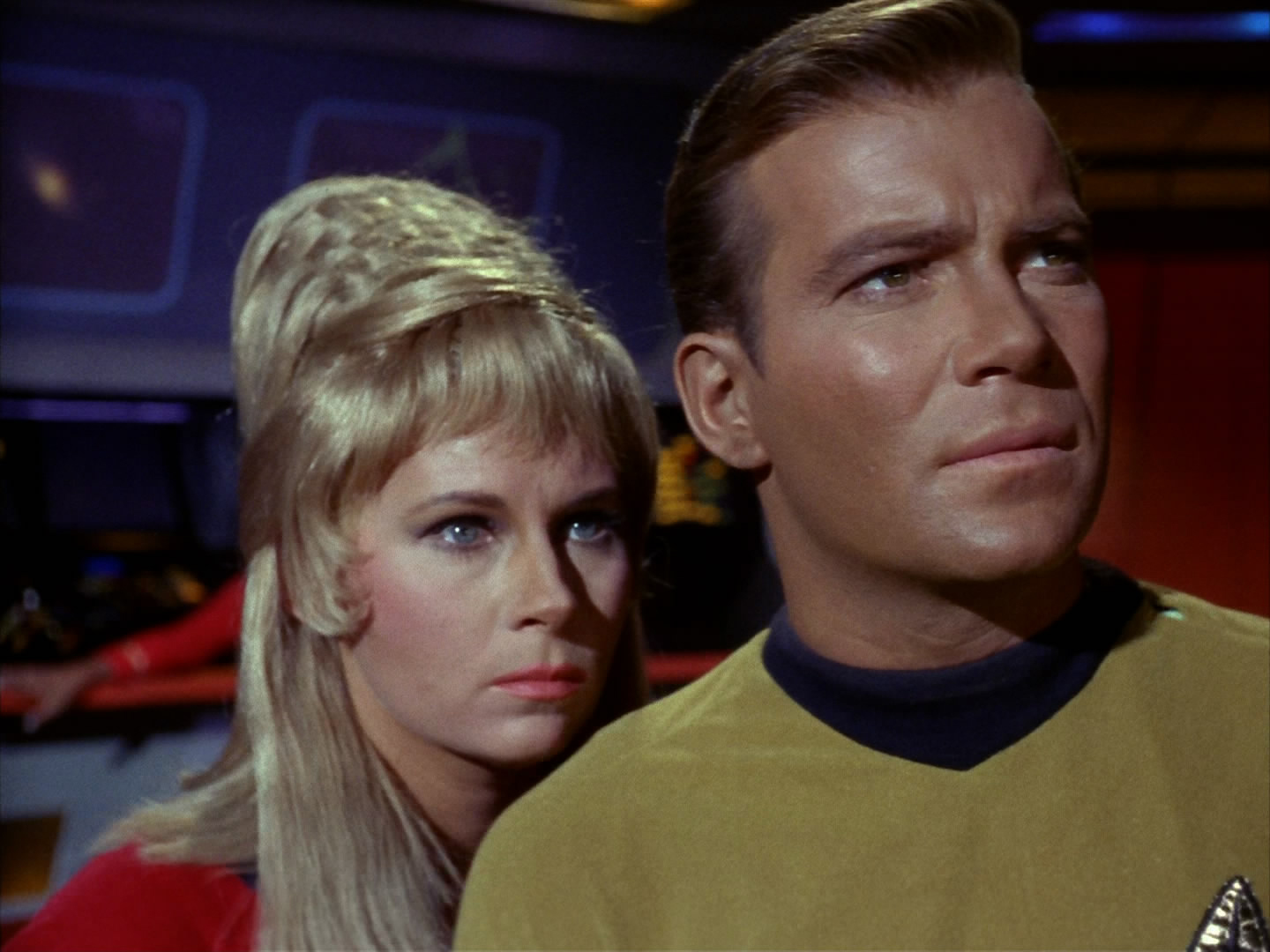 Exceptions include Lieutenant Palamas (Leslie Parrish), who manipulates Apollo's affection for her in "Who Mourns for Adonias?", and Areel Shaw (Joan Marshall), who doesn't let her feelings for Kirk stand in the way of prosecuting him in "Court Martial".
Although even she, like so many of the series' female guest stars, was a love interest of Kirk's.
In "Who Mourns for Adonias?", Kirk and McCoy take it for granted that Palamas will "leave the service" as soon as she "find[s] the right man." Janice Lester's (Sandra Smith) lament in "Turnabout Intruder" — "Your world of starship captains doesn't admit women" — was for a time interpreted by fans as meaning women couldn't command starships. The more charitable interpretation is that a captain doesn't have time for marriage. In either case, the interests and desires of women come second.
Including their sexual desires. After an evil Kirk attempts to rape Rand in "The Enemy Within", Spock creepily remarks to her that the impostor "had some interesting qualities." Apollo in "Who Mourns for Adonias?", Charlie in "Charlie X", Kryton in "Elaan of Troyius" and Salish in "The Paradise Syndrome" all attempt murder when the women they desire turn them down.
When a powerful woman does show up, such as Joanne Linville's Romulan commander in "The Enterprise Incident", she can be manipulated by a man.
By men, for men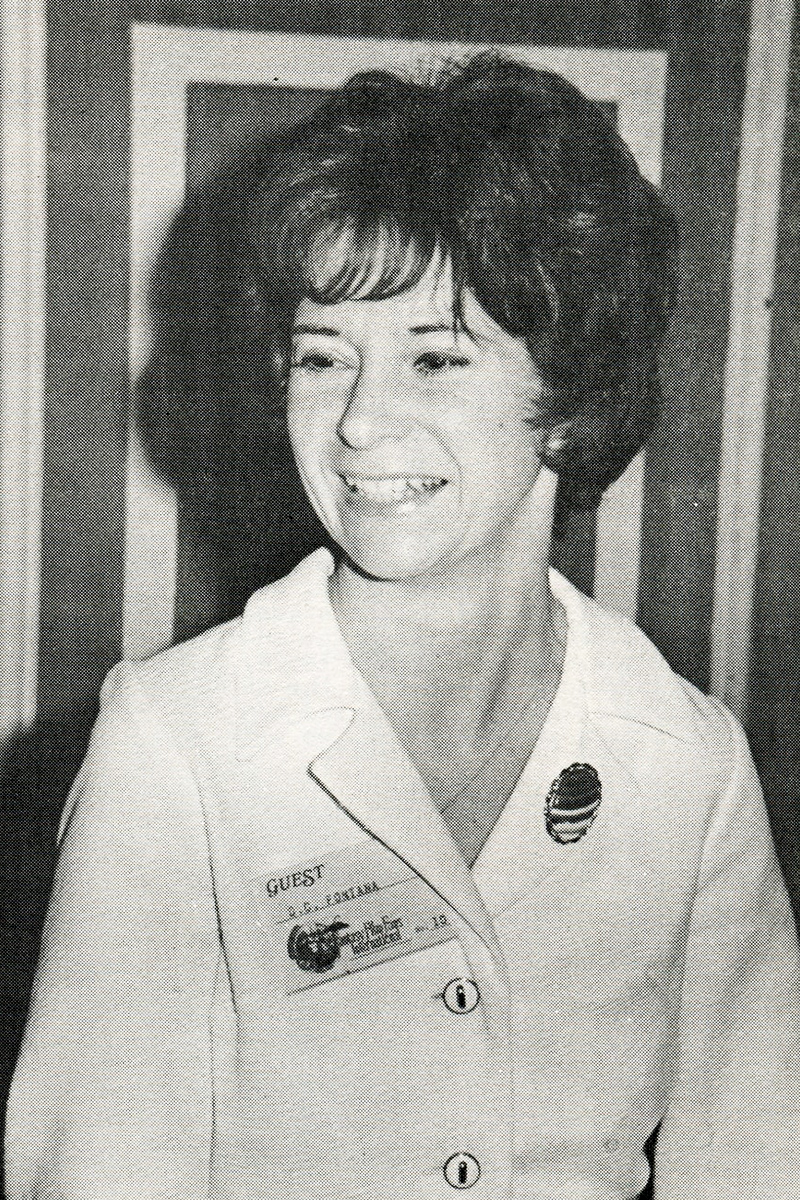 The above is far from an exhaustive list of examples, but they make the point: with few exceptions, the women of Star Trek were defined by their relations with men. In only 7.5 percent of episodes do two named female characters talk with each other about something other than men. (For comparison, The Next Generation would score 45 percent in this so-called Bechdel test, named after cartoonist Alison Bechdel.)
One reason was that the show was made by men. Dorothy C. Fontana was the only woman script writer and story editor. (And she was credited as "D.C. Fontana" to hide her sex.) All the cinematographers, directors and producers were men.
Another reason, according to Producer Herb Solow, was Roddenberry himself. To the Star Trek creator, Solow writes in Inside Star Trek: The Real Story, "Women were, essentially, sex objects always ready for action."
(Roddenberry would regret this, admitting in an interview with Cinefantastique not long before his death that, during The Original Series, "I didn't pay any attention to women.")
We see this in the way women were dressed, in the way they were photographed and even in the way they were filmed.
Miniskirts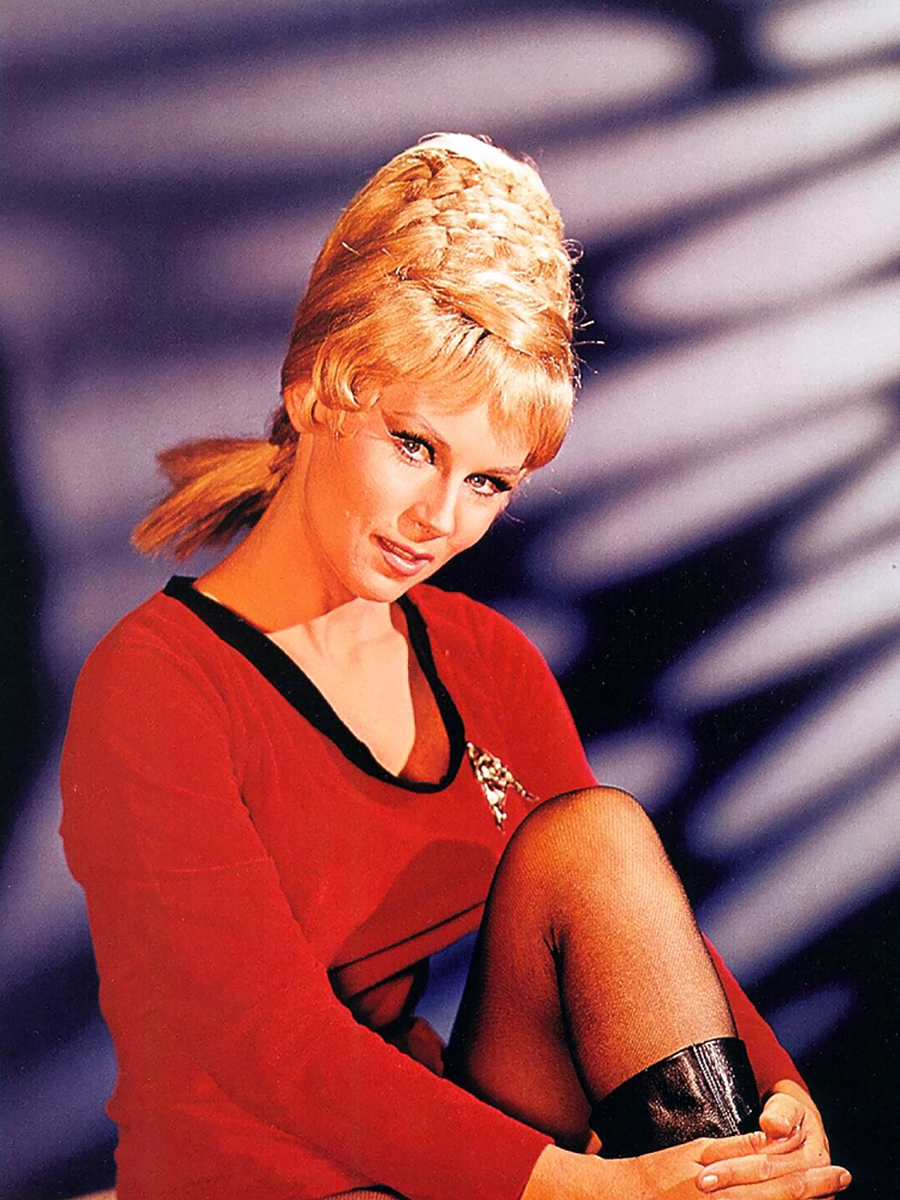 The miniskirts may not have been intentionally sexist. Nichols writes in Beyond Uhura that no one saw them as demeaning at the time. "In fact, the miniskirt was a symbol of sexual liberation."
But they were also, according to Hannah Givens, a way to reassure an anxious public "that femininity wouldn't disappear in the Space Age."
The first woman had already flown to space in 1963, Soviet cosmonaut Valentina Tereshkova. Her "mannish" and militarized appearance seemed to indicate dangerously unstable gender roles. While Star Trek challenged those roles with its scripts — even challenging heteronormativity in important ways — miniskirts helped camouflage those statements and make them palatable for the audience.
Costume designer William Ware Theiss, a gay man, made sexy outfits for men as well. But it were his revealing dresses for women that inspired the "Theiss Titillation Theory": the idea that sex appeal lies not in the amount of skin shown, but rather in the likelihood of a costume falling off.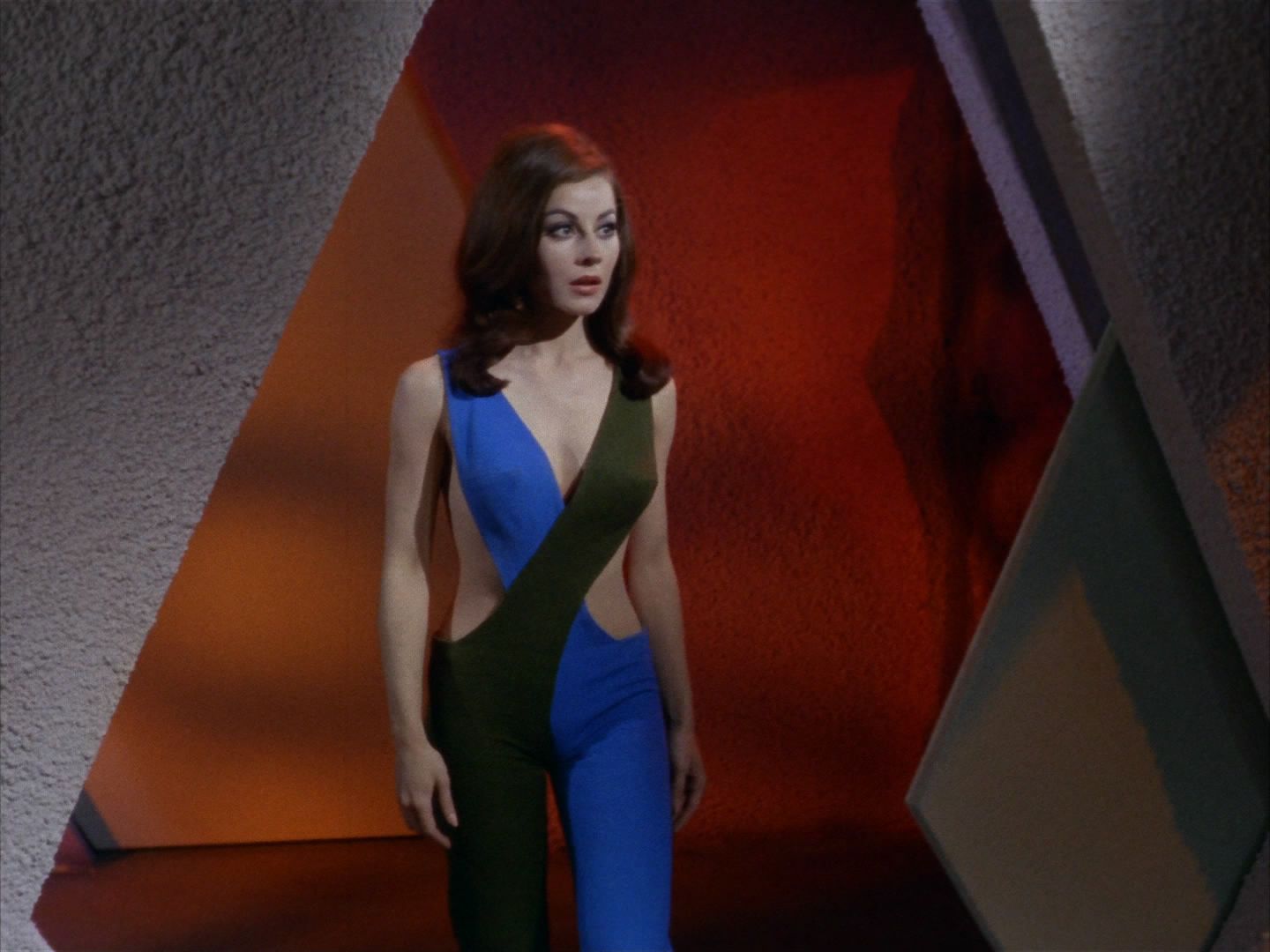 Examples include Sherry Jackson's android in "What Are Little Girls Made Of?", whose top consists of two crossing straps of fabric connected in one piece to her trousers, and the dress Apollo fashions for Palamas in "Who Mourns for Adonias?", the front of which is held up by the weight of the train falling over her shoulder.
Kirk's gaze
On closeup, women's faces were shot in a soft focus and often paired with romantic, swooning music:
While the crew members were shot heroically in blazing light and sharp focus, love interests, on the other hand, looked more like watercolors. To achieve the effect, thin layers of plastic, or diffusion filters, were placed before the lens for those shots.
The technique came to be known as "The Gaussian Girl," named for the Gaussian blur.
Regular actresses Majel Barrett, Nichelle Nichols and Grace Lee Whitney were usually exempt.
The technique was typically reserved as sort of "Kirk's gaze" point-of-view perspective.