Illustrated Memory Wall Script
This is an annotated excerpt from the Star Trek: The Motion Picture script which describes the (in)famous "memory wall" sequence, illustrated with production photographs, stills from the film and photoshopped impressions by Tracy Tobias that give us a glimpse of what could have been.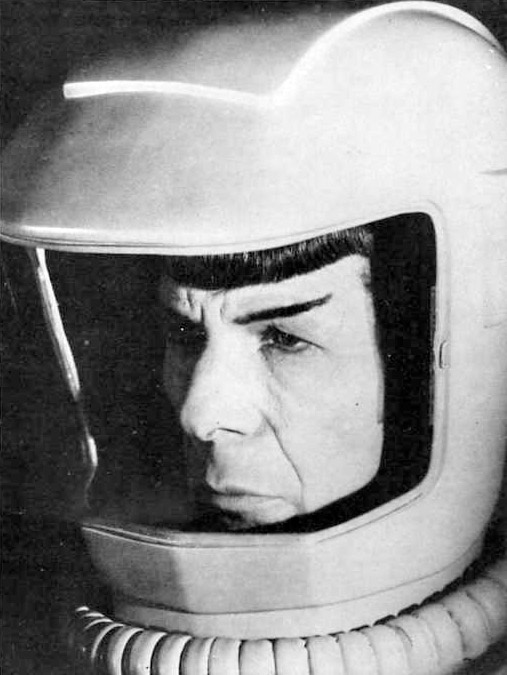 273 – INT. V'GER ANGLE UP TOWARD ENTERPRISE (M)
The ship stationary in the chamber as now we SEE an exterior hatch sliding fully open. Up through the hatch a circular airlock door opens — and a TINY FIGURE in a thruster spacesuit emerges, steps into space, slowly floats down through the hatch and under the Enterprise saucer section. In this and subsequent VIEWS we will SEE that on the rear pack of his thruster spacesuit is a FLASHING STROBELIGHT which regularly EMITS the identifying SIGNAL of this particular suit (By which Kirk will be able to see Spock's position from even several miles away.)
MOVING TOWARD the CAMERA until the features behind the face mask are clearly identifible: Spock, his face set in the same grim, determined expression as he touches his space suit transmitter control.
SPOCK: Computer, commence recording. Captain Kirk — this message will detail my attempt to contact the aliens…
INT. BRIDGE
This scene, as seen in the original version of the movie, has Chekov informing Kirk that Airlock Four has been opened and a thruster suit is reporting missing. Kirk, knowing it is Spock, orders Chekov to get a fix on Spock's position and EXITS hurriedly.
276 – INT V'GER – MED. ON SPOCK
His features now set in an almost trance-like expression as he concentrates on the thought emanations. Then we SEE his head turn, he peers off — then he moves his thruster controls. We SEE the small blue jets of the thrusters — his spacesuit figure begins to move off in the direction he was concentrating upon.
277 – ANOTHER ANGLE – SPOCK
His thrusters moving him across V'Gers's vast chamber then dropping down in a deep "trough"-like area which stretches into distance ahead of him. A cloud of CRYSTAL FORMS become visible to one side but Spock passes them at some distance and does not attract them. We can SEE more clearly now the point along the inner wall off the trough toward which Spock is heading. Its a unusual combination of GLOWING FORCEFIELDS which seem to mark this point of the vessel as of some importance.
278 – AIRLOCK AREA to
282 – ANGLE ON KIRK
These scenes consist in part of Doctor McCoy arguing with Kirk, while two crewmembers help him put on his spacesuit.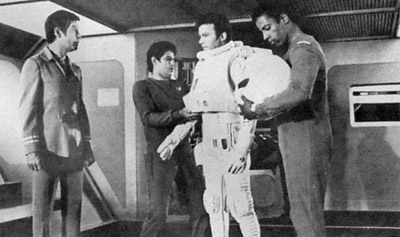 KIRK: I don't want him stopped. I want him to lead me to whatever is out there.
McCOY: And if that "whatever" has taken over his mind?
KIRK: He'll still have led me to it.
This exchange appears in the "Special Longer Version" of the movie available on VHS and as a cut scene on Robert Wise's Director's Edition DVD.

There is also a sequence in Ilia's quarters in which the Ilia Probe asks Decker and McCoy why the "two carbon units were trying to enter V'Ger," taking places between scenes 283 and 286. An extended version of this sequence can also be seen in the "Special Longer Version" as well as in the Director's Edition.
282 – ANGLE ON KIRK Continued
Kirk: I have him in sight.
Kirk touches his thruster controls and blue thruster jets propels him into the direction indicated. His thrusters come on for a long period of time as he accelerates to the higher speed necessary to overtake Spock…
INT. V'GER – KIRK MANEUVERING WITHIN THE CHAMBER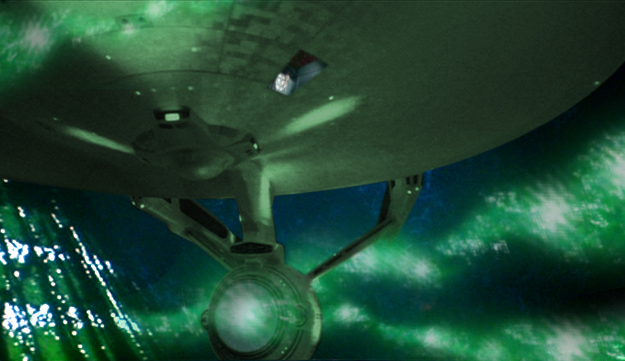 Kirk but a small object, thruster jets occasionally spurting as he guides himself deeper into the trench as he continued forward progress in the direction he saw Spock taking.
289 – KIRK'S POV
Spock's STROBE signal closer and Spock's tiny spacesuited figure now becoming dimly visible as he moves steadily toward the GLOWING FORCEFIELDS of the inner wall.
290 – ON KIRK His attention fixed on Spock. He never notices until an instant too late an O.S. object; quickly he hits the thruster control, and we SEE the MANEUVERING JET turn him to the side as :
291 – WIDER ANGLE – KIRK AND THE BLOB FORMATION
A swarn of strange-looking translucent crystal-like FORMS on a collision course with Kirk.
292 – MED. SHOT – KIRK (O)
As the nearest crystal forms WHIP INTO THE SHOT, adhering to Kirk's spacesuit. He hits full MANEUVERING JETS now, seems to make some escape but still more forms WHIP IN, adhere.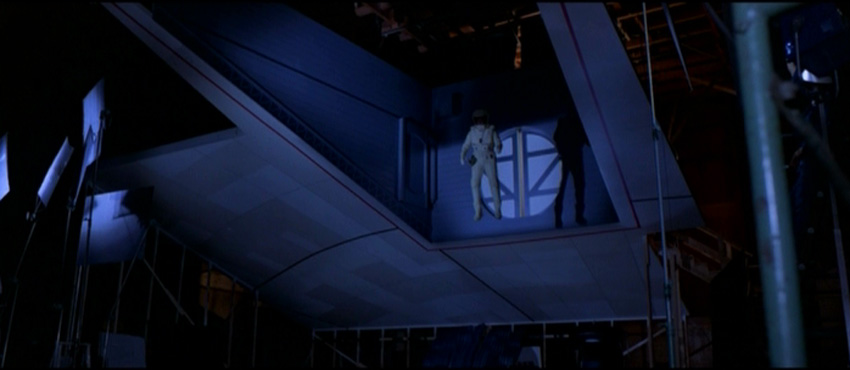 KIRK: Bridge!
INT. BRIDGE – EMPHASIZING HELM
All eyes are anxiously on the O.S. main viewer.
KIRK'S VOICE: Stand by, I may be in trouble…
ANGLE ON THE MAIN VIEWER (M)
As the distant STROBE FLASHES of Kirk's spacesuit are MAGNIFIED CLOSER, pulling Kirk into a MEDIUM LONG SHOT. We can see the details of the swarn of forms adhering. But we can SEE that Kirk's spacesuit is now about half covered with them!
294 REVERSE ANGLE
Expressions of the bridge crew to reflect the horror of what they are seeing as :
SULU: Your phaser, Captain….! Use your phaser…!
KIRK'S VOICE (transmitter weak): Can't….reach….phas—
(transmission breaks off into heavy STATIC).
CHEKOV: Airlocks two and four—prepare to launch rescue teams!
(glancing into viewer) Chief Lang! Get them out of there! Fast!
SULU: Mr Spock, the captain is in trouble, directly behind you — three hundred meters! (beat) Mr Spock!
Looks of distress are exchanged.
295 INT. V'GER – SPOCK
Spock's spacesuit figure MOVING TOWARD the CAMERA, as we HEAR:
KIRK'S VOICE (weak, STATIC): Spock…! …need help…!…trapped…!
295 – INT. V'GER – SPOCK Continued
No indication at first that Spock has heard; his face set with determination, his eyes fixed on his destination: the inner wall.
KIRK'S VOICE (continuing; weakening; STATIC): …pressure on me…!…can't move…!…Spock…!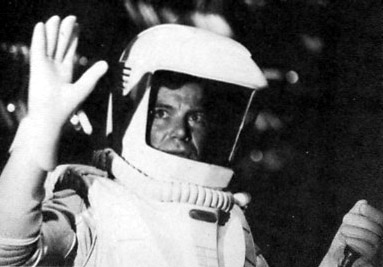 296 ON SPOCK – CLOSE
As Kirk's VOICE STOPS — and all that is heard now is the HEAVY STATIC crackling ominously. Spock's expression flickers, then he hit's reverse thruster JETS, stops — he turns to glance at the inner wall, then hits reverse thruster JETS, stops — he turns to glance at the inner wall, then his thruster's turn him so he can look back the way he came. But he cannot resist Kirk's call; he suddenly hits his thruster controls, the JETS FLARE, and :
WIDER ANGLE – SPOCK
As his thruster JETS accelerate him back toward Kirk.
298 – INT. BRIDGE – VIEWER (M)
Showing Kirk's spacesuit completely covered, encased in the blobs. Kirk is no longer moving. But in the distance, facing toward him is Spock !
299 – INT. V'GER – KIRK AND SPOCK
With Spock in the near distance, heading TOWARD the CAMERA. As he approaches Kirk, Spock brings out his phaser. Now he hits the controls for REVERSE JETS — he slow RAPIDLY as he approaches Kirk's now completely encased spacesuit. Spock makes a quick phaser adjustment.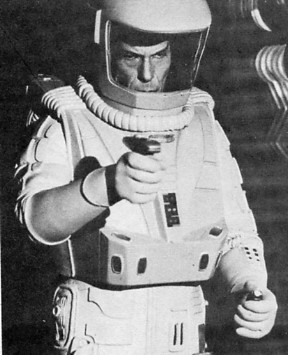 300 – ANGLE ON SPOCK AND KIRK'S ENCASED SPACESUIT (O) (S)
Spock levels the phaser carefully. FIRES. The PHASER BEAM striking the blob form — it SHATTERS, the pieces DISINTEGRATING.
301 – INT V'GER – SPOCK AND KIRK
Facing each other while hovering in space.
KIRK: Bridge, cancel rescue teams. (hard) Spock, what in the hell are you doing out here !
SPOCK: I am seeking answers, Captain.
KIRK (with insight): Answers to what, Spock ? Our dilemma — or your personal one?
Spock does not immediately reply, peers at Kirk through the faceplate a long beat, then abruptly looks away, points off in the distance.
302 – ANOTHER ANGLE – INCLUDING INNER WALL (O)
We can SEE what appears to be SPARKLING GLOBES of LIGHT darting toward the inner wall in the distance, then disappearing there.
SPOCK (pointing): Captain, I believe there we will find an indication of whoever — or whatever — is aboard this vessel…
Kirk weighs alternatives, then pushes his thruster controls and begins moving in the direction Spock indicated. Their thruster JETS flash, propel them toward that point in the inner wall.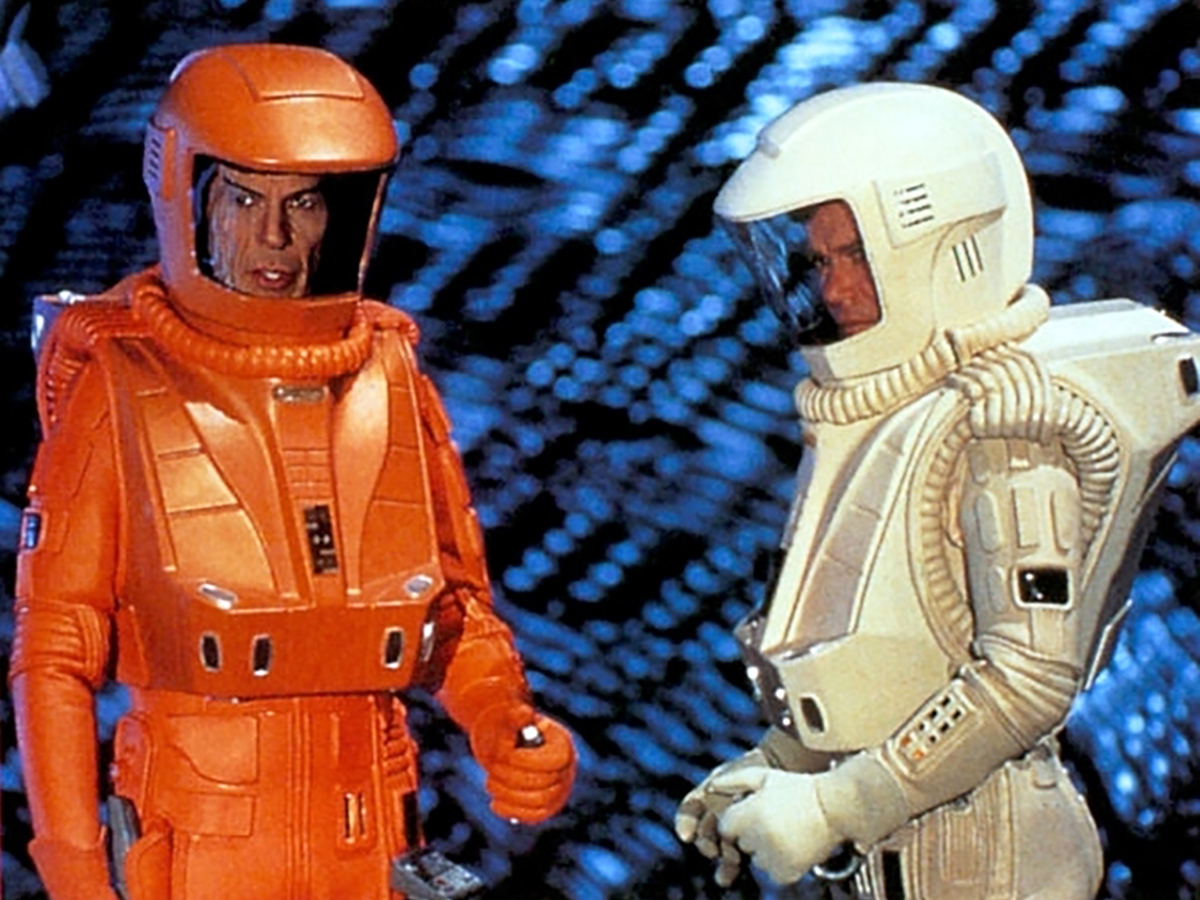 303 – INT. V'GER AT INNER WALL
The most prominent areas of the vast inner wall — the patterns on the wall here seem to glow with life. The spacesuited figures of Kirk and Spock ENTER SCENE, gliding slowly toward what seems to be the central of these patterns.
304 – CLOSER ON KIRK AND SPOCK
As they approach and then we SEE the brief REVERSE THRUSTERS and then forward momentum stops; motionless. Spock sees something.
305 – LONG ANGLE TO INCLUDE SENSOR SWARM
Now, we SEE that they are tiny, multi-colored points of flashing light — almost like a swarm of bees. They approach the inner wall at this central point and then seem to "disappear" through the orifice.
306 – KIRK AND SPOCK – ANOTHER "SWARM" APPROACHING (O)
This "sensor swarm" has been coming from a direction that will take them close past Kirk and Spock. Then, as it passes, Spock reaches out quickly, grabs. He turns to Kirk, his hand closed on something.
307 – CLOSE ON KIRK AND SPOCK (AGAINST "TUBE" WALL)
Spock opens his hand, retaining a hold on something with his fingers. He brings it up to Kirk's face mask — it's a tiny SENSOR, its multi-colors flashing as it tries to escape Spock's fingers. And in this CLOSE VIEW, we SEE that this is a SENSOR very much like the one we've seen imbedded in the Ilia Probe's throat hollow.
SPOCK: Each individual crystal appears to contain immense energy, as though each is alive… this entire wall is a single mass of living energy. And these sensor swarms carry data… here.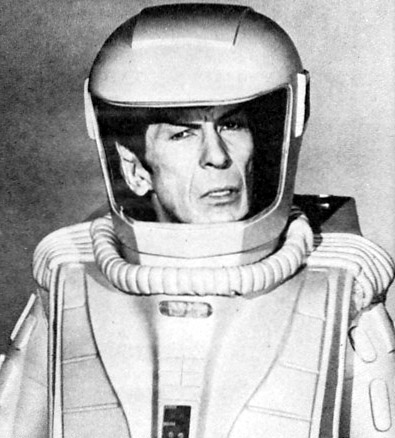 Spock releases it and it darts to join the sensor swarm near the opening of the inner wall.
308 – KIRK AND SPOCK'S POV (O)
From the closer distance, we SEE that an opening appears in the wall, admits the sensor swarm, then closes imediately.
309 – BACK TO SHOT
Kirk and Spock exchanges a look. Their thruster JETS ignite briefly, moving them in that direction.
310 – INT V'GER – KIRK AND SPOCK (O)
Closely approaching the inner wall now, timing their movement to coincide with the arrival of another "swarm" — and the wall begins OPENING. The "swarm" through, the wall begins CLOSING — but Spock and Kirk slip in before it closes.
311 – INT "MEMORY CAVE" – SPOCK AND KIRK
The wall closing behind them, they are safely inside. But as they stop their foward momentum, their eyes WIDEN with AWE and SURPRISE at what they are seeing: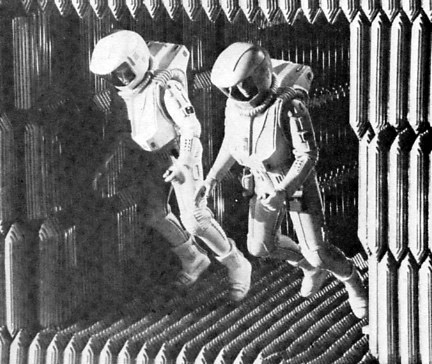 311A – WHAT THEY SEE (M)
The long "cave" chamber with its row of huge MEDITATOR BALLS extending into the distance. To one side, the gleaming CRYSTAL MEMORY WALL.
311B KIRK AND SPOCK
As Spock makes a quick analysis and estimate of what they are seeing. Then, he takes out his tricorder again, propels himself toward the memory crystals. Kirk follows.
311C – AT MEMORY CRYSTAL
As Spock adjusts his tricorder through several readings.
SPOCK: It would appear that the atomic arrays of these crystals store information. A remarkably efficient device.
KIRK (indicates): And these "sensor-swarms" collect that data, carry it here.
SPOCK (nods, indicates): New crystals: they must contain the most recent data obtained.
And Spock touches one of these new crystals (it will be shinnier, more pulsating than the others): ANOTHER RAPID PROFUSION OF FAINT IMAGES, but this time including a pattern-like image of Klingons, Klingon vessels (the ones destroyed by the cloud) and obvious Starfleet personnel — and the Epsilon 9 station. Also, a pattern of the Security Guard killed by the probe. And Ilia.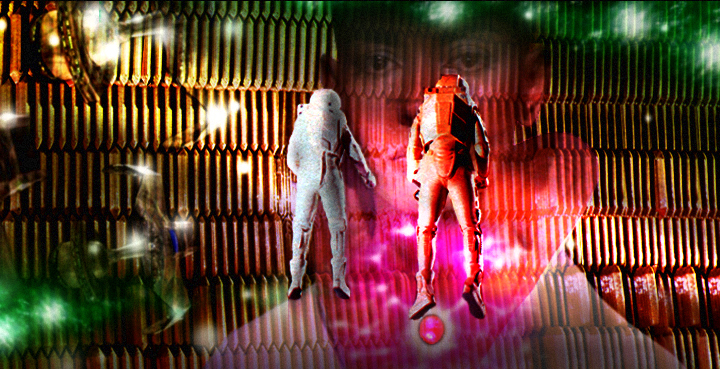 312 – ACROSS THEM TO ANOTHER SECTION OF THE WALL
Spock inspecting this area at which the "newer" crystals are PULSATING and GLOWING, and which appears to be a termination of the crystal area, continuing on and disappearing through the wall.
KIRK: If this is their ship data banks, where is the crew? Or is their entire ship automated?
SPOCK: Captain, I do not believe that there is a crew — or that this is a vessel as such.
A beat, as Kirk reacts incredulously.
SPOCK (continuing): I am almost certain now that all this is V'Ger — that we are inside a life form, a living machine.
Spock turns his spacesuit, takes his tricorder out and toward the Meditator Balls, taking a reading in that direction. Then a glance at Kirk.
SPOCK: I must attempt to mind meld with it, Captain.
Spock touches his spacesuit controls, the THRUSTER JETS move him out toward the Meditator Balls.
313 – ANGLE AT MEDITATOR BALL
Spock reaches the ball, halts his momentum and removes one gaunlet, baring his hand. Stretching the bare hand toward a part of it which looks strangely "alive". The very power generated from this area is clearly affecting Spock's hand. Meanwhile, Kirk has used his THRUSTERS to join him.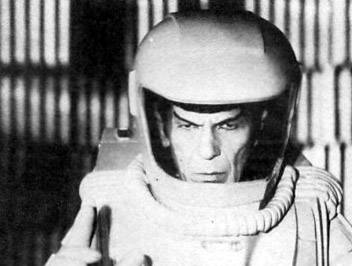 KIRK: Its brain, Spock? If you're right, its mind may be enormous…
But Spock pays him no attention, his entire being now focused on the PULSATING GLOW of the "alive" area — the CAMERA MOVING CLOSER TO Spock, as he forces his hand toward that surface, closer, closer.
314 – KIRK :
Watching, almost mesmerized. Torn between wanting to pull Spock away from the wall — and knowing that Spock must go through with it. For everyone's sake.
315 – CLOSER ON SPOCK
Preparing for the ordeal, moving his hand to the "living area", "the invisible" forces even stronger — but Spock's strength unwavering, and now touches the surface — and it FLARES WITH STRANGE ENERGY at the touch. And at the same moment Spock's body convulses as if tens of thousands of volts of eletricity are charging through him.
316 CLOSE ON SPOCK'S FACE
As he begins to shudder with the shock, the CAMERA CONTINUES INTO EXTREME CLOSEUP as we SEE Spock's mouth open — he SCREAMS. CAMERA INTO EXTREME CLOSEUP OF SPOCK'S EYES.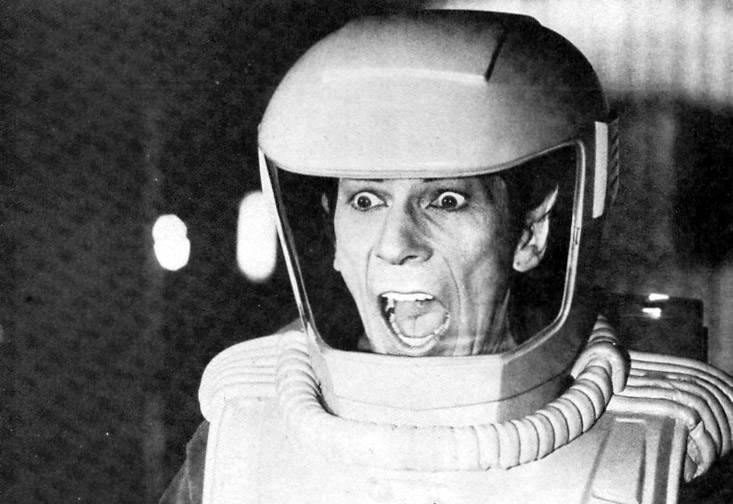 317 CAMERA ZOOM – THROUGH SPOCK'S EYES
MUSIC IN AND UP as we travel through ABSTRACT IMAGES (per Con Pederson discussion). Symbolizing V'Ger's incredible and complex store of mechanistic knowledge, these IMAGES suggest patterns of atoms, molecules, galaxies, dimensions of the universe beyond human knowledge or comprehension. It takes only fifteen or twenty seconds, but seems to span eons, taking us through micro-infinity and macro-infinity.
DISSOLVE TO:
318 INT. DISPENSARY – SPOCK'S EYE
CAMERA BRIDGING BACK THROUGH SPOCK'S EYES AND INTO ANGLE ON SPOCK'S FACE as he lies in a sickbay bed […]
Now we are back to the original theatrical cut of the movie, as the following scene plays just after the "Spock spacewalk" sequence that FX supervisor Douglas Trumbull reshot after the movie had finished principal photography.
His eyes are open; he is staring straight ahead as if in a catatonic state, completely unware of his surrondings. Then Doctor Chapel leans INTO SCENE, moving a medical scanner over the brain area.
CHAPEL: Now scanning pons area at spinal nerve fiber connection…