Designing the Phase II Enterprise
When time came to upgrade the famed Enterprise for a second television show, Gene Roddenberry asked Matt Jefferies to have another go at his starship to reflect the refit that would be part of the series' backstory.
In his redesign, Jefferies changed the engine nacelles from tubes to thin, flat-sided modules and tapered their supports. He also added the distinctive photon torpedo ports on the "neck" between the saucer and the engineering hull.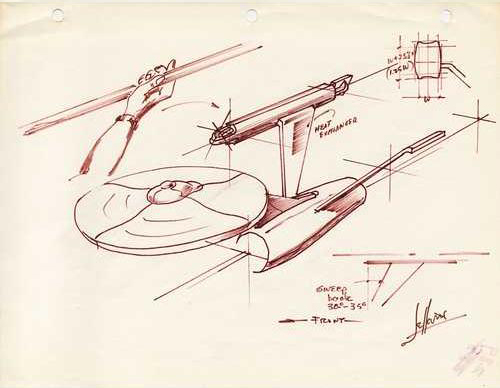 "Basically," Jefferies said years later, "what I did to it was change the power units and make a slight change in the struts that supported them."
I gave the main hull a taper, then I went flat sided and thin with the power units, rather than keeping the cylindrical shape. Trying to work out the logic of the refit, I knew a lot of the equipment inside would change but I didn't see that there would be any need to change the exterior of the saucer. Certainly, though, the engines would be a primary thing to change. Part of the theory of the ship's design in the first place was that we didn't know what these powerful things were or how devastating it would be if anything went awry so that's why we kept them away from the crew. And that meant they could be easily changed if you had to replace one.
A model of the refit Enterprise was built by Don Loos, who had built the original ship more than ten years earlier.
When Paramount abandoned its plans for Star Trek: Phase II and decided to make a motion picture instead, Loos' Enterprise was packed away. Director Robert Wise brought in a new art director, Richard Taylor, who assigned Andrew Probert to do a second redesign of the ship, essentially keeping with Jefferies' new lines while adding the extensive detail that was necessary for a motion-picture miniature.