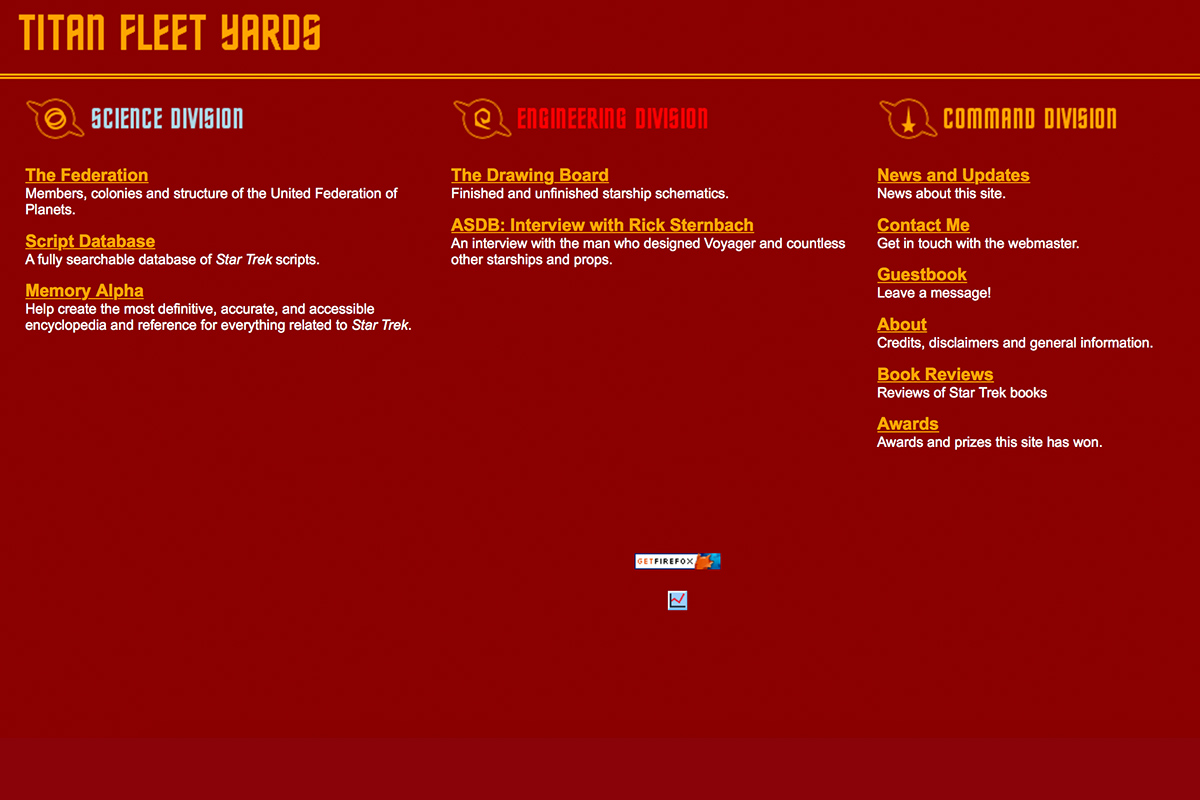 Titan Fleet Yards, Harry Doddema's personal Star Trek website, started in 2000 as Prakesh's Star Trek Site. A typical fansite of the time, it contained tidbits of information and some images.
A version of this first incarnation of the website does not seem to have been preserved by the Internet Archive's Wayback Machine. The earliest version I can find is from January 2001, when Titan Fleet Yards had already got its name. This was the second version of the website and it came online in August 2000. It contained Doddema's own starship designs and a few articles.
The next version of the website, from April 2001, was heavier on graphics. It still contained Doddema's own ship designs and introduced what became Titan Fleet Yards's main attraction: a list of all known members of the United Federation of Plants. Known for a while as the "Races of the Federation," the list, at the time, contained 106 species. It was — to my knowledge — the first attempt to catalog all Federation worlds.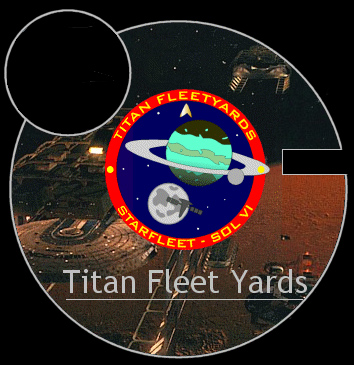 In the summer of 2002, Titan Fleet Yards moved to a new host and a new URL and this was paired with another redesign. This version won Bernd Schneider's prestigious Ex Astris Excellentia Award, who wrote:
Instead of making just another list of existing (canon or conjectural) starships, Harry is creating his own ones, and they are always getting better. A highlight of his site is the section on the members of the Federation, which is the most profound and most extensive of its kind in the web. […] Harry has recently upgraded the whole site with an unusual and modern graphic layout and PHP scripting, leading the site into a bright future.
But, as Doddema himself put it, this version proved "a bit of a hassle to keep up to date" and a year later he introduced the fourth version of Titan Fleet Yards. This one was distinguished by a red background and three sections:
Science Division contained the famous list of Federation members.
Engineering Division hosted Doddema's own starship designs and schematics as well as an interview with Star Trek designer Rick Sternbach from Ex Astris Scientia.
Command Division had news, contact information and book reviews.
In February 2004, the website got its own domain and a fully searchable "Script Database", allowing visitors to search all teleplays from Star Trek: The Next Generation and Deep Space Nine.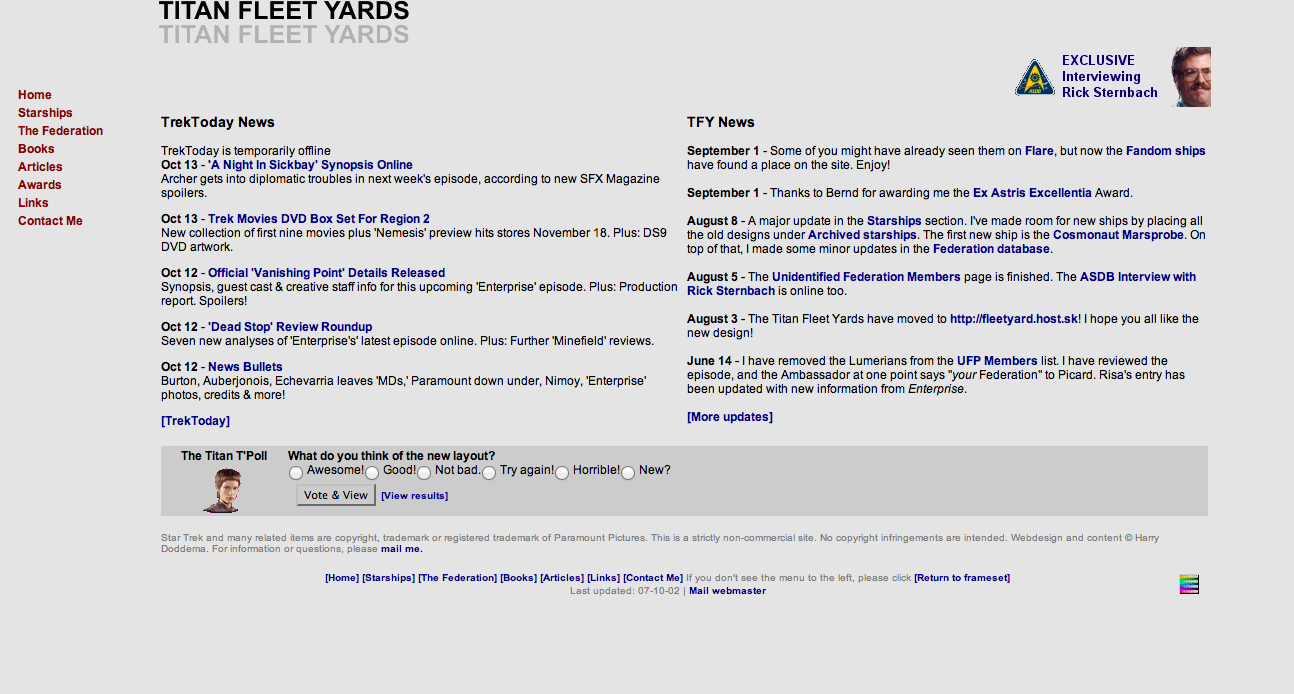 The previous year, Doddema had teamed up with Dan Carlson of Star Trek Minutiae to create Memory Alpha, a Star Trek Wikipedia. It launched on December 5, 2003 and quickly became one of the biggest and most popular Star Trek websites — making many other sites redundant in the process. Doddema's list of Federation members, which had made his site such a useful reference, was improved upon by the hundreds, if not thousands, of Star Trek fans contributing to Memory Alpha.
Doddema nevertheless introduced a fifth version of Titan Fleet Yards in June 2008, announcing:
I've basically thrown away everything, and will start it all over again! I've made several (non-public) attempts before to redesign the site and come up something interesting, but in the end I've opted for a blog type website. It makes it much easier to update and keep track of stuff, something that led me to abandoning the previous version of TFY.
Doddema started rebuilding the list of Federation members, but only thirteen had been added by the time the site went dark in March 2013. The last update was from December 18, 2009.